About Our 110 Gallon
Ultrasonic Cleaner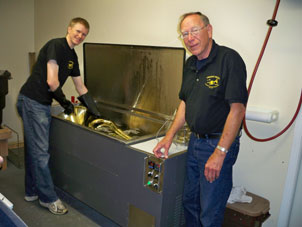 • Environmentally friendly & safe
•
Able to clean interior & exterior surfaces
• Better than mechanical & chemical cleaning
(We change out our tank every 2-3 months -
compare to shops who don't change their
chemicals for YEARS!)
• A highly effective degreaser
• Environmentally safe detergent

Ultrasonic cleaning replaces the traditional methodology of cleaning with toxic solvents. Ultrasonics uses sound vibrations, hot water and engineered soaps to clean instruments. Non-toxic ultrasonic cleaning bubbles and the cavitation process seek out grease, unwanted microscopic particles and other contaminants from your instrument. This extraordinary cleaning action infiltrates the smallest crevices and hard-to-reach surfaces, penetrating areas normally inaccessible to other cleaning methods. This process is also beneficial to us, as repair technicians, as we no longer have to store, work with, or dispose of toxic cleaning agents.