About Us
Thomas Music started in 1968 by Russ Thomas. He was frustrated with the slow turn-around of local stores to get instruments back to his students. We offer the highest quality of repair and the quickest turn-around time of any store so the musician can keep on playing!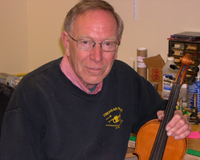 Russ Thomas, founder and "CEO" of Thomas Music, passed away in 2019. Russ was educated at SUNY Fredonia and earned a Master's degree in Music Education. He was an instrumental music teacher in East Irondequoit for his entire 35+ year career. Russ learned the art of instrument repair in 1967 under the watchful eye of Dominic Puccio. He opened his own shop in 1968. Additional training took place at the former Allied School in Wisconsin in the early 1970's. He attended numerous Allied sponsored workshops and seminars prior to the formation of NAPBIRT (National Association of Professional Band Instrument Repair Technicians). Russ was a Charter Member of NAPBIRT in 1976. He continued to attend NAPBIRT conferences around the country, with his daughter Jennifer, until 2018.

Russ was extremely active in the community. He was a 50 year volunteer fireman with Point Pleasant serving in many different roles, he conducted and played in several community music groups and served in town government on the Zoning Board and as President of the Irondequoit Arts Council.

Jen (Thomas) Nicoletti, Russ' daughter, is the current owner of Thomas Music. She was also educated at SUNY Fredonia where she graduated with a Bachelor's degree. She worked in the field of Human Resources for ten years before changing careers in 2000 to work with her father as a band instrument repair technician. Jen is a past President of NAPBIRT. She regularly attends national and regional conferences to further develop her repair skills. She is a certified Straubinger repair technician after taking and completing the intensive workshop in Indianapolis. Jen sings in the church choir and is the Treasurer. She lives in Irondequoit with her husband, David, and cat Princess. When not repairing instruments, Jen loves to garden and has a certified Way Station for Monarch butterflies. She also enjoys going on wine tastings in our beautiful Finger Lakes area, bird watching, reading and camping.

Byron Ford grew up in Richmond, VA and started playing the clarinet at the age of 11. He attended Ithaca College and graduated in 2003 with a bachelor's degree in music performance and education. Inspired by several instrument repair courses at Ithaca, he decided to pursue the field professionally and enrolled in the Band Instrument Repair Technology program at Renton Technical College near Seattle, WA. After graduating from the program in 2007, he returned to the east coast to begin his career as a band instrument repair technician. Byron is a member of NAPBIRT and regularly attends regional and national conferences to further develop his repair skills. He is also a certified Straubinger repair technician. Byron lives in Brighton with his wife Jen, their daughter Bea, son Bennett.

Trevor Roberts joined our team in the spring of 2022 after working near Buffalo at Twin Village Music for 13 years. He received a BM Music Business degree from Mansfield University with concentration on Trombone. He is also a graduate of the Badger State Repair School where he studied brass and woodwind repair, and is a member of NAPBIRT. Trevor has performed with The Great Lakes Wind Symphony, Cheektowaga Symphony Orchestra, Orchard Park Symphony Orchestra, West Seneca East High School pit orchestra, Finger Lakes Concert Band, and the Legion Band of the Tonawandas. Trevor lives in Canandaigua with his wife Alana and corgi Ham.